10 World Map Designs To Decorate A Plain Wall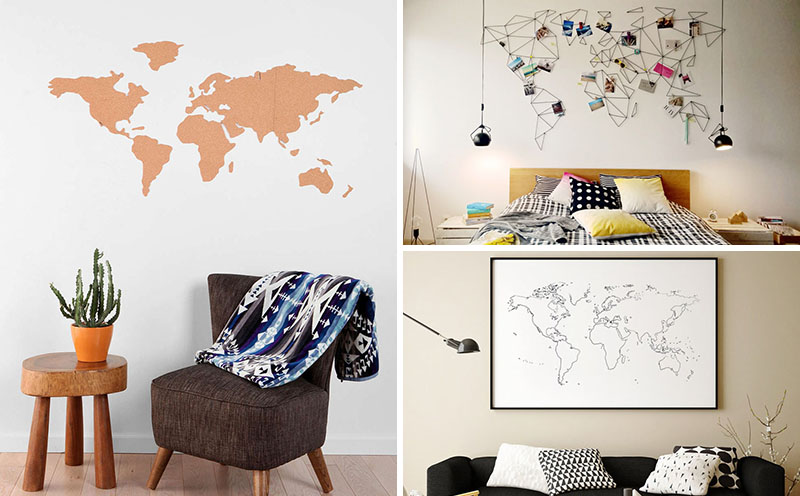 Whether you use it to teach your kids about the world, track your travels, or just as wall art, a world map is a great way to fill empty walls. To help you find the perfect one for your home contemporist.com have compiled a list of 10 creative examples of world maps that look great on walls.
1. This wood world map is slightly raised off the wall to add dimension to your room and help warm up your space.
2. These geometric world maps are made from wire that lets you clip treasures and photos from your travels onto the map so you can personalize your wall even more.
3. Keep track of your travels with a cork board map. Use pins and string to map your trips and stick little photos or keepsakes directly onto the map to create a mini travel journal directly on your wall.
4. This black minimal world map wall decal is the perfect addition to the wall above a shelf or table dedicated to your worldly travels.
5. These fun world map wallpapers are a great way to create a feature wall in a kids bedroom that's both artistic and educational.
6. A super minimalist illustration of a world map shows your appreciation for travel without sacrificing your love of simplicity.
7. This simple set of framed panels of the world puts a more artistic spin on the world map and adds a more decorative look to your walls.
8. The more you travel the more this world map comes to life. Each time you travel to a new country, scratch away the black to reveal colorful version of the country beneath it. This is a great way to not only show off your travels but to also add more color to your walls.
9. This world map is printed on thick felt to allow you to stick pins straight down into it without worrying about your wall behind the map.
10. This colorful 3-dimensional world map is one that you make yourself using durable paper that's been pre-cut and pre-creased to make assembly easy and fun.