25 Best Homemade DIY Bird Feeders for All Kinds of Yards and Gardens
Aside from the obvious benefit of feeding birds, bird feeders give us the pleasure of being in our feathered friends' company. These garden must-haves offer a zen-like quality to homes as well a wonderful aesthetic appeal to any yard, whether it's small and humble or large and ostentatious. Bird feeders are simply great to have around.
​So if you don't have one yet, The Saw Guy scoured the internet to give you a list of the best homemade bird feeders that you can use for any type of yard.
#1 Birdseed Wreath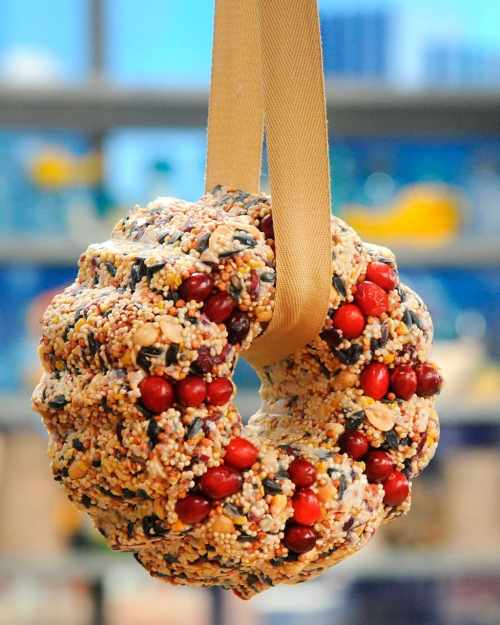 Modeled from the shape of the iconic home décor, this part-wreathe-part-bird-snack piece from Martha Stewart is a must-do for creators who want bird feeders to complement their house's cozy style.
#2 Stale Bread Bird Feeder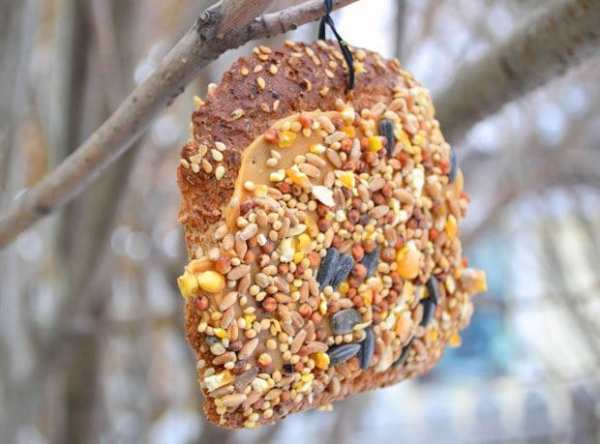 If you can't quite find the time to build a fancy feeder, this three-ingredient DIY from CBC's Parents is just the thing you're looking for. All you really need are some stale leftover bread, bird seeds and good old peanut butter, and you'll have yourself a nice treat for the nice birds in your neighborhood.
#3 Flowerpot Bird Feeder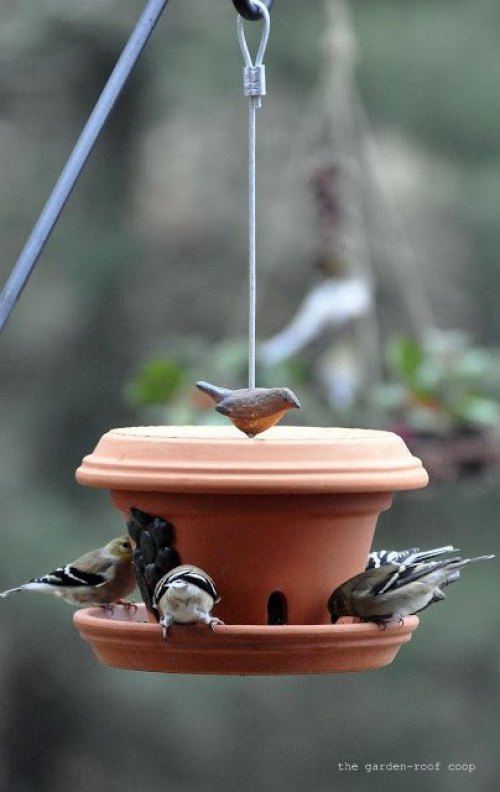 You just can't make a garden wonderful without adding a bird feeder into the mix. So use those extra flowerpots you have lying around the yard for to make this brilliant bird feeder from The Garden-Roof Coop. You'll love the perfect marriage of two great hobbies, gardening and bird watching.
#4 Vintage Teacup Bird Feeder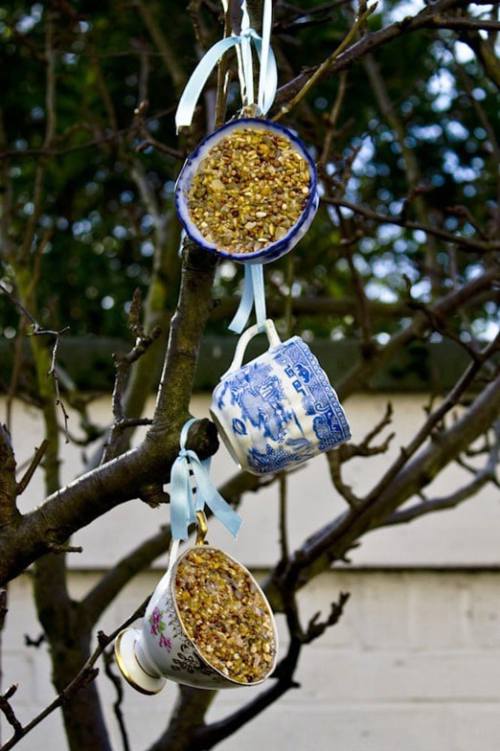 Don't let those old yard sale teacups waste away in your dark attic. While birds may not enjoy a cup of tea as much as we do, they do enjoy clinging to hanging cups full of yummy seeds. Interested? You can get the full details on this project at The Natural Wedding Company.
#5 Cookie Cutter Bird Feeder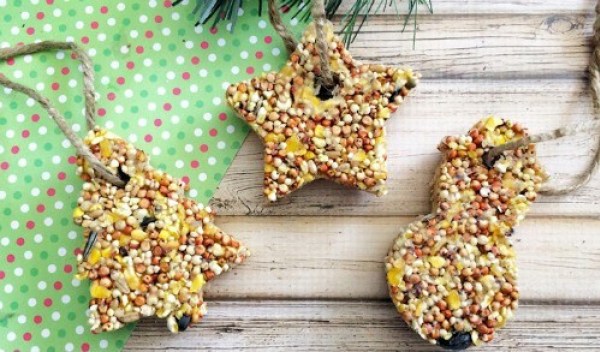 Bird feeders are undeniably a staple for crafting activities. But if you're looking for something younger kids can do, why not make this cookie cutter bird feeder from Freebie Finding Mom? It's easy, inexpensive and totally kid friendly.
#6 Shadow-Box Bird Feeder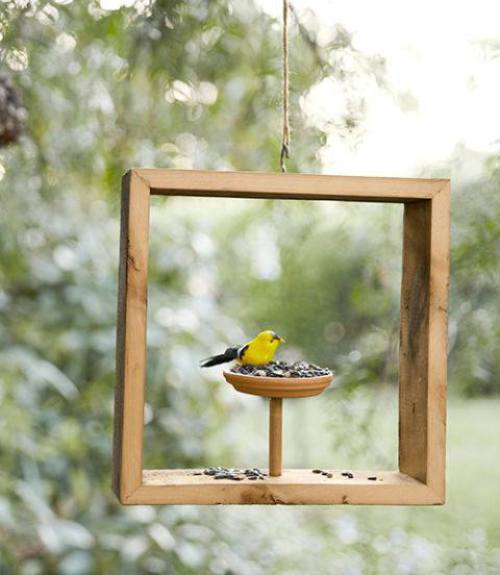 Rustic contemporary art plus bird food provider, it can't get any better than this. Country Living gives us one of its top warm-weather projects that's actually inspired from the work of a reputable furniture designer. Minimalistic but functional, yes, you'd definitely want this one in your garden.
#7 Glass Bottle Bird Feeder
With a dash of color and a pinch of curling gold vines made surprisingly from cheap wires, this second bird feeder DIY from The Garden-Roof Coop can make your yard look whimsical like it's from a fairytale book.
#8 Cheerios Bird Feeder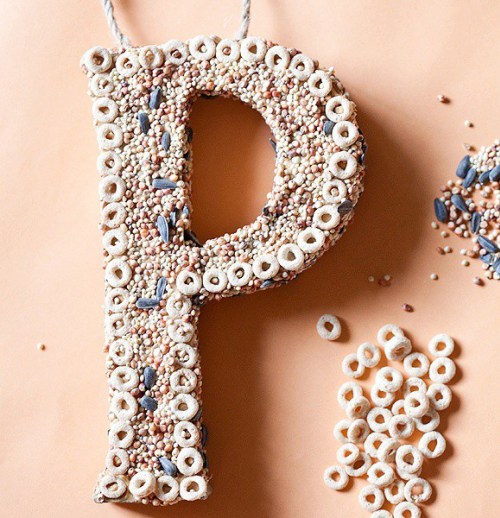 These crunchy little breakfast rings aren't just your kids' favorite meal to wake up to. Tablespoon figured that our favorite feathered creatures love them too! Stuck into customized letters, you can get an awesome Cheerio yard décor for each member of your family.
#9 Lego Bird Feeder/ House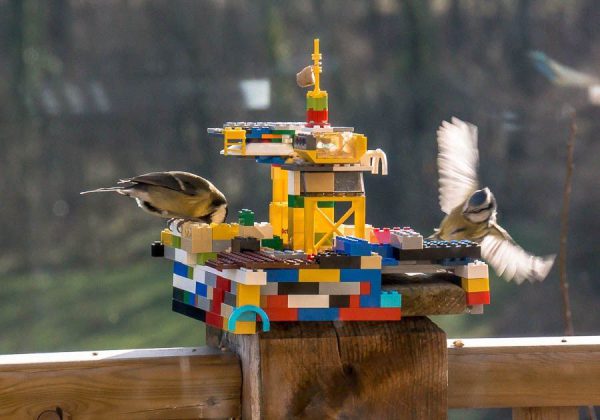 This might just be the ultimate reason for kids to join in on bird watching! So let them tap into their creative sides while they build bird castles and avian fortresses from those colorful plastic blocks. Get more details on project at Wild About Here, and start building!
#10 Plastic Cup Bird Feeder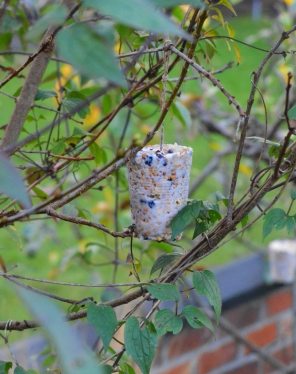 This piece is definitely one of the easiest in this entire list. It's so simple, you can let your kids make it without full supervision. Growing Family's DIY is something you'd love for your yard if you're in to laidback and relaxed crafting.
#11 Upcycled Silver Platter Bird Feeder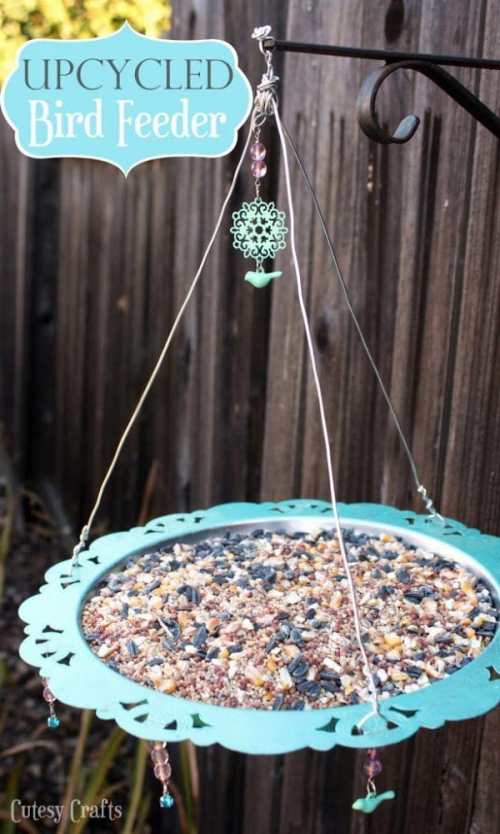 Worn down silverware can be such a waste to throw away. Why not craft a bird feeder out of it? Cutesy Crafts' revamped silver platter is a must-have for any dreary garden. All you need are spray paint, wires and some bling, and you'll light up a plain yard.
#12 Paper Plate Bird Feeder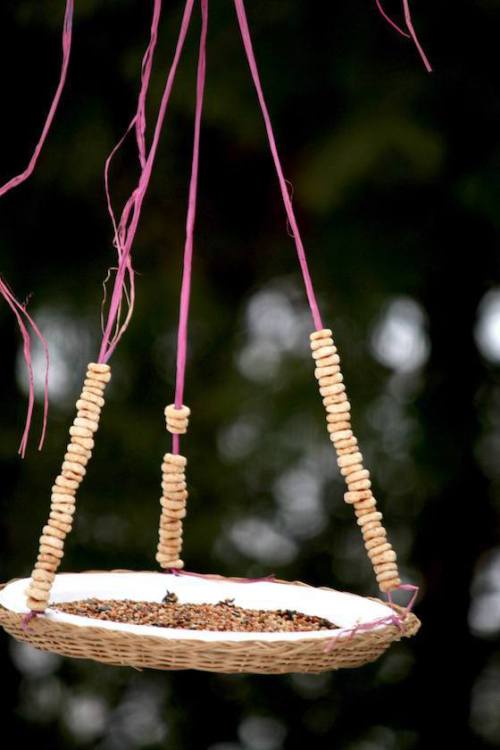 If you're not so keen in using your silverware. There are cheap and biodegradable paper plates you can put out in the yard to do the exact same thing – without the risk of rust and maintenance. Check out the full tutorial at Happy Hooligans now.
#13 Pinecone Bird Feeder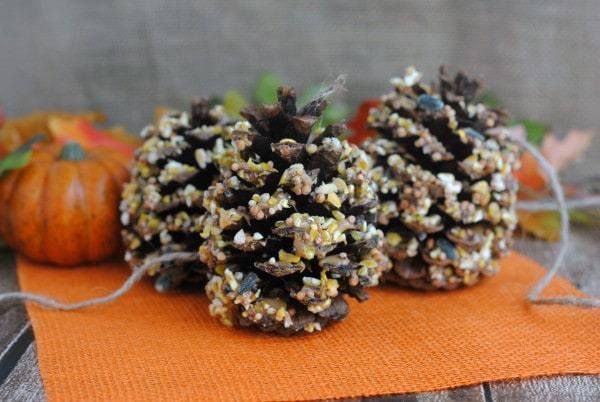 Pinecones really are the crafty supplies from nature's very own DIY store. You can make them for any project, including a bird feeder that you can just throw away afterwards. If you like a no-hassle feeder with a core material that's available nearly everywhere, give this other project from Freebie Finding Mom a go.
#14 Fruit Feeder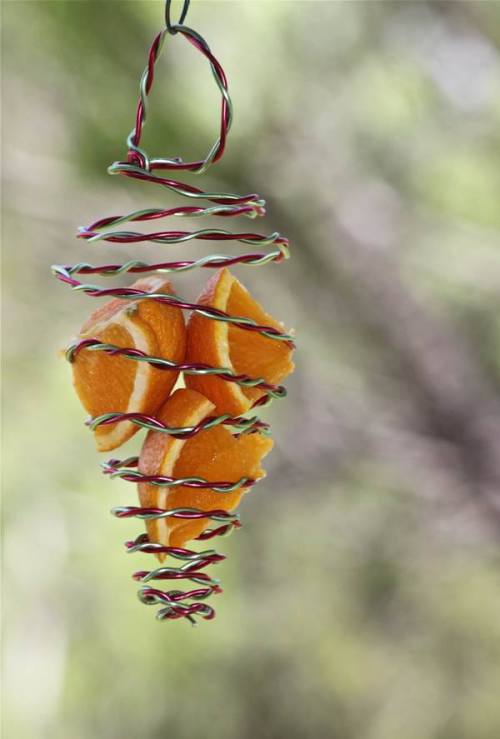 Fresh out of bird seeds? Use fruit! Fruit feeders like this lovely piece from LovePetsDIY.com can invite more than just the usual birds. They also attract beautiful butterflies to stay in your garden.
15 Bowl and Plate Bird Feeder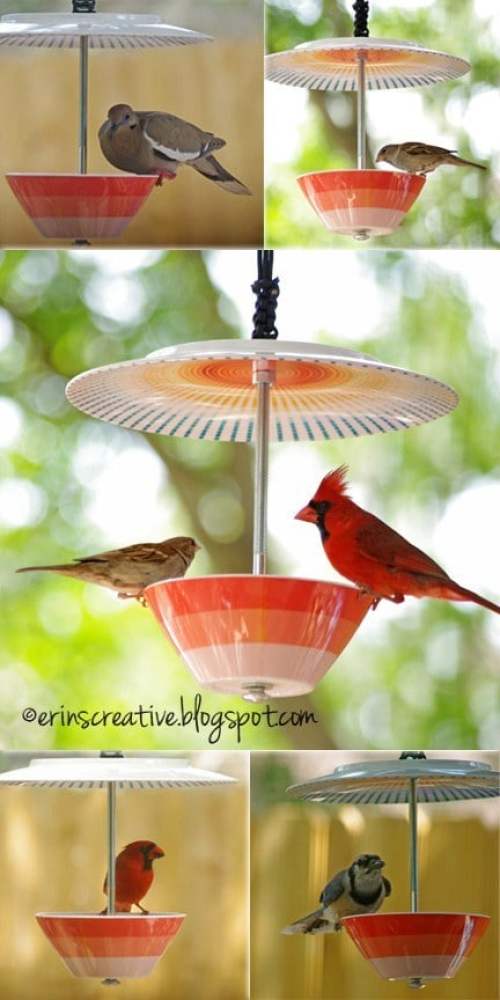 This next DIY is way too pretty to be a bird feeder. The crafty creation won first place in an online crafting competition back in 2012. And now its maker, Erins Creative Energy, is sharing the feeder's full DIY story, tutorials and all. So you can make one for yourself at home!
#16 Oriole Feeder
Somewhat like the ivy-league version of a regular fruit feeder, Birds and Blooms gives us a rustic garden bird feeder inspired from the standard bird house. The beauty in this project is that you can make it completely out of scrap wood.
#17 Mason Jar-Log Bird Feeder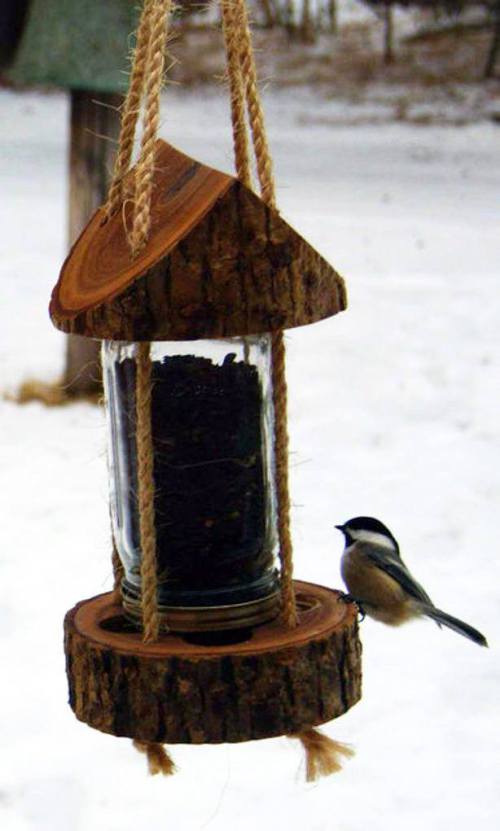 Mason jar lights, mason jar planters, mason jar organizers and mason jar…well, jars. Since the boom of hip and casual cafés and restaurants, mason jars have been in the limelight of the DIY community. So, it's no surprise that Instructables has made these very versatile ex-mayo holders into incredible bird feeders that can withstand all types of seasons.
#18 Ceramic Saucers and Wire Bird Feeder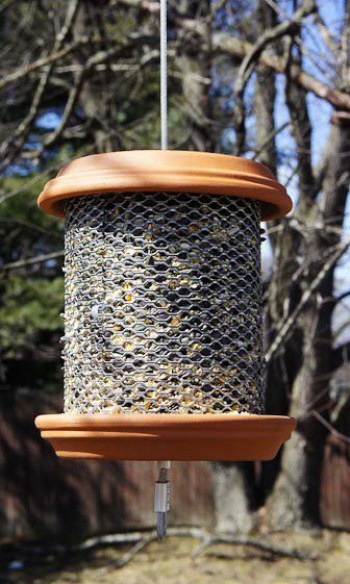 Another durable bird feeder is this piece constructed from ceramic saucers and wires. Just Short of Crazy's feeder is big, and it stays put even during heavy rains and winter storms. Nothing says commitment than providing free bird seeds all year round.
#19 Chandelier Bird Feeder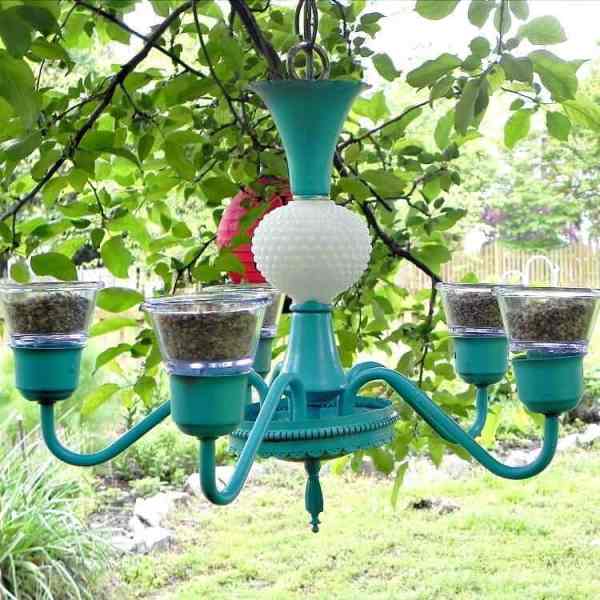 So maybe you have a spare chandelier you wouldn't mind giving to the birds? This tutorial from Feeding Big gives you a bird feeder that truly lives up to its blog's name. Don't be surprised to see more than one Finch flying around your yard after you make the biggest feeder in this list.
#20 Popsicle Sticks Bird Feeder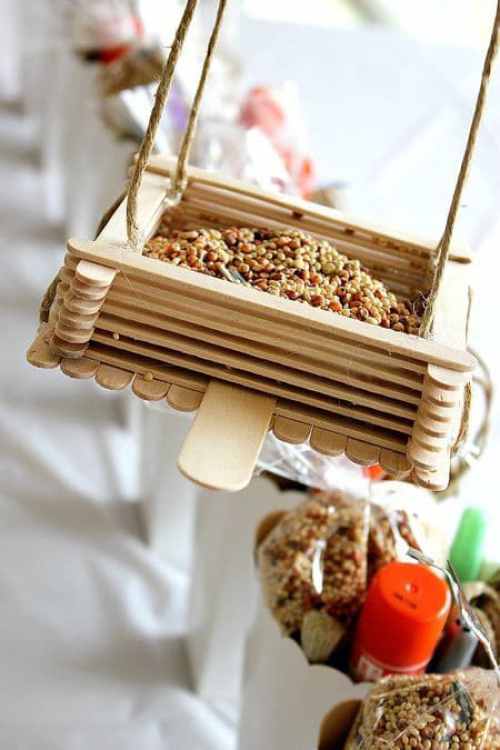 Here's another bird feeder that kids will definitely have fun making. This nest type feeder is perfect for crafting parties, school activities, neighborhood projects and even family downtimes. Get the full tutorial at Tonya Staab.
#21 Popcorn Heart Bird Feeder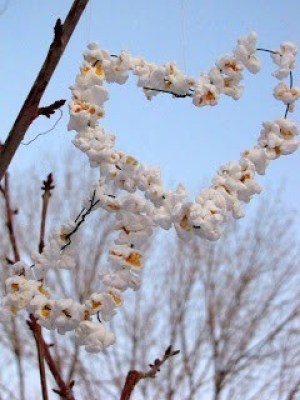 Turn leftover popcorn from movie nights into bird snacks in the morning, or share Valentine's Day with our feathered friends. Give this quick and simple heart-shaped piece from Ordinary Life Magic a try. You won't regret it.
#22 Toilet Paper Roll Bird Feeder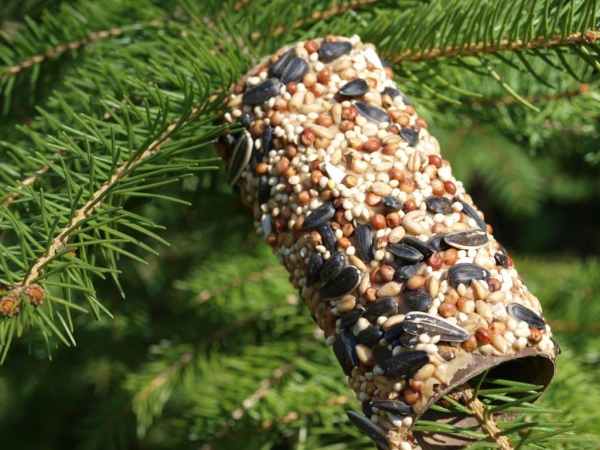 You've got to love biodegradable bird feeders. They're so easy to tidy up. You can just let nature do its job and clean it for you. Teach your kids the joys of recycling and using biodegradable things for a healthier environment. Check out this project from Felt Magnet.
#23 Window Bird Feeder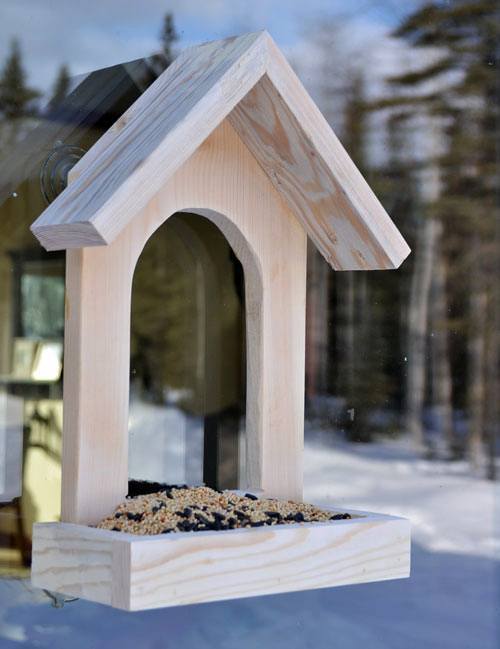 They say that nature takes the stress away. So bring in one of Mother Nature's greatest creatures straight to your living room to take your mind off work and your crazy schedules. With this window feeder from Ana White, you can cleverly, and albeit dreamily, watch as the birds do their thing on the other side of your window.
#24 Orange Peel Bird Feeder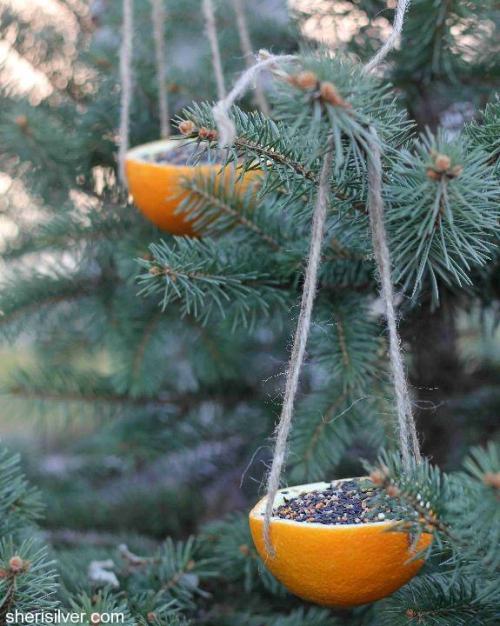 Don't throw those orange peels away when you can use them to help feed your neighborhood birds. This feeder from Donuts, Dresses and Dirt is great for any season. In winter particularly, the orange's lively color is a fantastic accessory for dark and gloomy pines.
#25 Wine Bottle Bird Feeder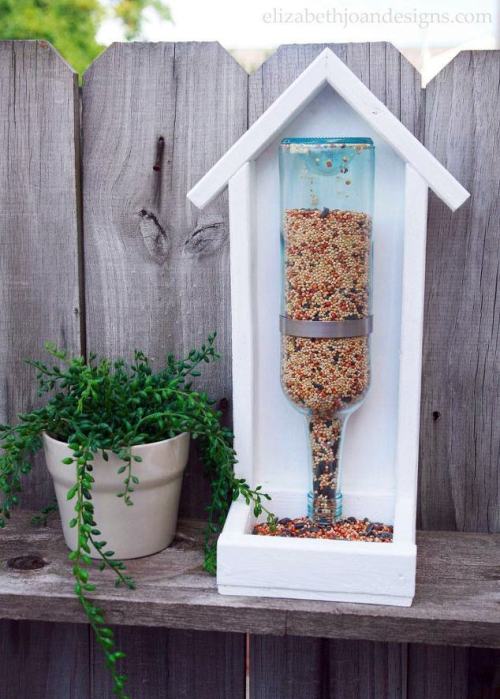 And lastly a classy bird feeder for a classy house, that's what this DIY from Home Talk is all about. Use an old wine bottle as a gorgeous fountain of bird seeds. A display, a décor or a spectacular centerpiece, this project is perfect for garden enthusiasts.